STEM 2017-2018
The Board approved up to $250 for two STEM projects this year: The first went to Girls in Science (Sunridge Middle School girls) to attend an Eastern Oregon University event on October 28 (see following note and photos).  The second award also went to Sunridge Middle School for use by the wood shop class for a special project.  Please read the following note and photos for each event below:
Oct 29, 2017:  What a great day!!!  The girls LOVED every moment! They also agreed the food was great! They are hilarious!  The entire conversation home was about having our own Girls in Science at SMS! The cool thing is not only do they want this, they want to lead it!   It's amazing how inspiring 46 minute drive can be!

Thank you so much for contacting me and offering the funding. The ability to provide transportation removed the largest barrier by far.

Nichole Erwin, SMS Science Teacher
Attached is a write-up of thoughts on their experiences from the girls.  Girls-in-Science 2017
******************************************************************************
The second award to Sunridge Middle School was used by the Wood Shop class for a special Rube Goldberg project.  Below is a letter received from Ken Jacobs, the class teacher.
"I elected to use the AAUW STEM funds to specifically support the Rube Goldberg project, since many consumable materials are needed and all the materials can be purchased locally. 

 The Rube Goldberg project challenges students to think like engineers and invent a machine that does a specific task or job.  As part of the challenge, the student- invented machine must pop a balloon within 60 seconds of activation. To teach science concepts, the students must incorporate at least four of the six simple machines in their Rube Goldberg device.  Mechanical advantage of each machine in their device must be calculated and presented in their design notebooks, as well as prototype drawings and the data collected as they built, tested, and modified their machine. 

 Each team of three students presents their machine to the class.  They explain how their device incorporates 4 – 6 different simple machines, where energy and forces are utilized (kinetic, potential, gravity, friction), and, in a demonstration successfully pop a balloon. Three trials are allowed. Since this is (for the most part) their first time designing a machine, we learn from and celebrate all of our successes. 

 Thank you for supporting Sunridge Middle School wood shop program.  More than 50% of wood shop students are girls. Girls are encouraged to explore, invent, and build. They learn skills, apply scientific concept, operate wood shop power tools, and become confident in their abilities."
****************************************************************************
STEM 2016-2017
Pendleton Branch supported the purchase of smaller-size welding equipment for Pendleton High School to make it easier for girls to participate in welding classes. More girls took welding classes than ever before. Marty Campbell was attending teacher for the welding program. The following photos show two of the girls in their new equipment.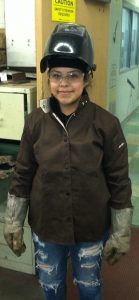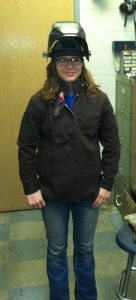 STEM 2015-2016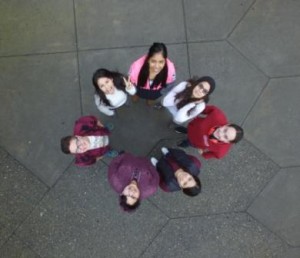 Core Team Members:  Mollee Allen, Esmeralda Morelos, Chyenne Bronson, Yurendi Magana, Kimberly Pradia, Makenzie Noggle, and Alissa Smith
Here's a photo sent by Coach Matthew Campbell. This is the core group of girls. They wanted an aerial photo and the weather finally cooperated. Here it is, taken by a drone!
"It's been a great season so far.  The team has been needing a programmer (difficult to get), and finally recruited one last week.  Three other students started and had to leave the team due to sports, etc.  The core group of seven is a good team size though" said Coach Campbell.
Click on the link to read a write-up from STEM Liaison, Karen King.